Our Story
Tribe Study Abroad is the sister company of Language Learning International (LLI) an Irish owned Language School and Study Abroad Agency. We have been in the language business for over 28 years and have looked after thousands of students from all over the world. Cathy, our Director, worked as a Barrister for a number of years and left her practice in the Law Library to head up Tribe Study Abroad. Cathy's husband, Eugene Murphy, is the Director of the LLI Language School and was a teacher for many years. Eugene was a member of the board of ACELS –the national recognition body for English Language Teaching He was also a member of the National Curriculum Development Association. Eugene is a respected academic within the language travel industry and has spoken at numerous conferences, lectured, and given workshops to teachers all over Europe. This husband and wife team are also parents of four adult children who have all gone abroad on language study programmes, giving them a unique 360 insight as educators, parents and language school owners.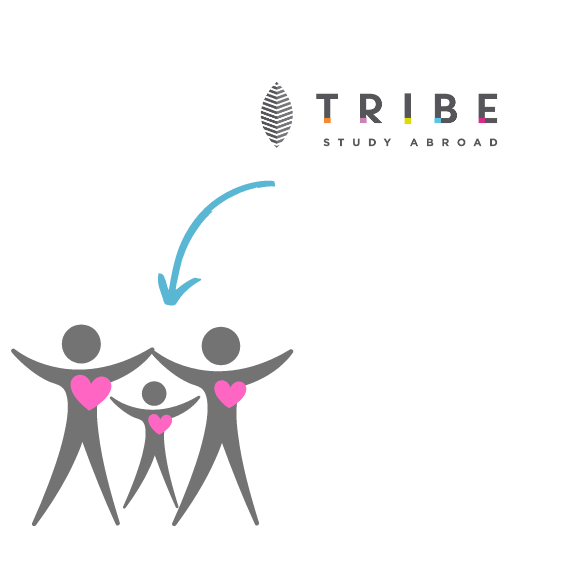 The team at Tribe know from the inside what it takes to make a top-class language school and how important a good host family and support on the ground is to a rewarding language experience. Our Tribe team have met the school directors and principals, visited partner schools abroad, and built relationships of mutual trust and confidence. This means that if you need extra support when you are away, we know exactly who to call and how to resolve it. We have made it our mission to personally visit all of our partner language schools and we know the people involved and only select the best of the best for you. We offer a high level of personal service and offer advice, assistance and support from your initial enquiry until you return home.
We are not an anonymous online travel platform; we are a boutique-sized office with a dedicated team who are ready and waiting to hear how we can help. We are privileged to share our wealth of expertise and experience with you and look forward to hearing how we can help you find your perfect language school abroad programme. We would love to hear from you, so please get in touch or if you are in the area, why not drop in for a coffee and chat?
One for One Project Bolivia
Our global human family is a wonderful multi-coloured tribe – composed of an incredible variety of cultures and a shared common humanity. But not everyone in this global family has the same access to education or travel. At Tribe Study Abroad, we have been privileged to collaborate with a wonderful organisation in Bolivia which provides an outreach centre and educational facilities to the indigenous people of Cochabamba. The Unisol Foundation was established in 2012 and to date have helped over 500 families. As soon as we heard about the project, we knew that we wanted to get involved and in 2017 we began our collaboration. For every Tribe Study Abroad student that participates in one of our language programmes abroad, Tribe Study Abroad supports a student's education in Bolivia; hence the 'One for One' project. What attracted us to this project is that it is part of a network of organisations which are supported by businesses that want to promote solidarity and practical support and are known as Economy of Communion.