STUDYING & SKIING IN GRANADA, SPAIN
Hi, my name is Aoife and I'm going to share the story of my first time skiing in Sierra Nevada, Granada. Every student who comes to Granada gets the opportunity to ski every Wednesday at Sierra Nevada and it's really fun!
It was my first time skiing ever so I was really excited but a bit nervous that I would hurt myself or fall off the slopes!! But not to worry you are kitted up well with big ski boots, helmets and gloves so there is nothing to worry about!!
You are provided with skis and can rent helmets if you don't have them, but I would definitely suggest you buy your own skiing googles because you will be using them a lot!!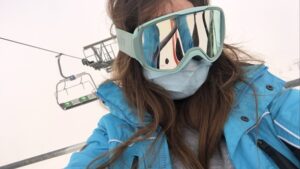 STAR STRUCK BY THE SIGHT
When I first went up the ski lift , I was star struck by the sight, it was like something out of a snow globe, a clear blue sky and mountains of fluffy snow and of course a big bright sun!! Scenes that you really must see in person to understand how incredible they are.
When we got up the slope, we carried our skis up to a place called the "meeting point" where we placed all our bags and belongings and kept them there for the whole day . We then were split up into groups of advanced, intermediate and beginner skiers. As it was my first time, I was of course in the beginners group . We learnt how to put on our skis correctly, how to stop and how to ski left and right, and when our instructor thought we were ready we had a trial run down the mini slope.
GOING DOWN THE GREEN SLOPE
After our trial run we went to the ski lift to go to the green slope. I was pretty nervous as this time I knew it was a real slope I was going on and I didn't know what to expect!!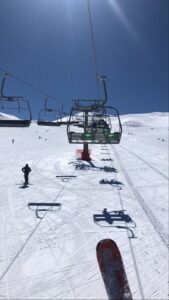 The first time I went down the green slope, I ended up going far too fast and fell a few times but that's ok!! It was all part of the experience and it honestly is not painful falling as your skis just fly off so you don't end up breaking an ankle. After falling a few times, my instructor helped me learn how to keep control going down the slope and from then on I was as happy as Larry.
LUNCH AT THE SKI RESORT
At 1pm, we have our lunch . You can bring a packed lunch or, you can go down to the cafeteria on the ski lodge. It's a buffet with lots of yummy food including chips, pizza, fried rice and much more and of course ice cream and beverages. Once we finish our food we go back to the meeting point to continue skiing. At this point (as I went skiing in early March) it is very nice because the sun slightly starts to go down, so the sky changes colour a little bit and the sun becomes a bit warmer. We continue skiing until 4 o'clock and then we make our way back to the ski lifts to go home. Once we have our ski gear off and are ready to go, our instructors usually drive us to a shopping centre called Nevada, and here you can buy Taco Bell, McDonald's or a 5 Guys meal which is a great way to end a fun day of skiing.