MY FRENCH ADVENTURE TO LOIRE VALLEY
My name is Georgie from St Louis High School in Dublin. I came to France during transition year to improve my French, experience new culture, explore new places and meet new people. Before I went I was really exited as I got closer to the place I was staying in called Loches I began to get very nervous. As I got off the bus, my host mum, Caroline, greeted me and gave me a french style kiss. She was so lovely and very welcoming. There was also another international student staying in Caroline's house who was Spanish but coincidentally had lived in Dublin for 3 years. I had just made such a good friendship.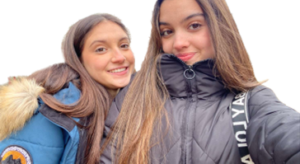 SCHOOL LIFE
The school I went to was an international school, where you stay in the school all week then go home to the host family for the weekends. I really enjoyed this combination and had a lot of fun with my friends in the evening in the boarding house. The French school days which were a lot longer then in Dublin. Classes were from 8:30AM till 5PM, then there was study time in the evening. There were international and French students studying at this school so we could all share our experiences and I got to meet people from all over the world.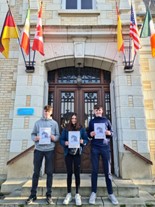 AMAZING DAY TRIPS WITH THE SCHOOL
We went on a lot of amazing day trips. Castles, museums, churches etc. We even went to Paris for a day trip with the school. What a day! A 5 am wake up, then a 3 hour bus journey. We had the whole day and fitted in a lot of amazing sites. Firstly, we went to a beautiful church (Église de la Madeline), then the Louvre (saw the Mona Lisa), then a fun boat trip on the Seine. Then, of course not to forget, the famous Eiffel Tower. Wow!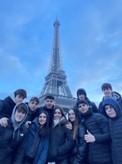 WHAT AN OPPORTUNITY THIS WAS!
I'm just home from my trip and I am now reflecting on how much French I have learned. Even though some of the students could speak English, it didn't stop me from improving my language skills. Even though I was only in the school for 5 weeks. During the day I had many French classes with the other international students, then I had my geography and science classes in French with French students.  In those classes, I just listened and got used to understanding the sounds of words.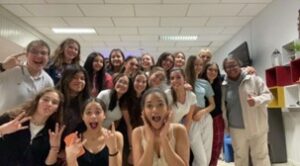 I had a lovely roommate in the dorm from Paris who really helped me learn French. My lovely host mum was also very good at ensuring that my French had improved by the end of my trip.
What an opportunity this was, 6 weeks away from home. Meeting new people from all over the world, getting immersed in French culture, visiting amazing cultural sites, learning French and dancing at the end of vacation disco!