Bonjour! My name is Rachel Kavanagh and I am a TY student from Kildare. I am writing this from Montpellier, France as I am 2 weeks into my 4 weeks stay here. I decided, along with my friend, Ailbhe, to spend a few weeks in France to try and improve our French. We have already seen a lot and experienced daily life here and it has been very interesting.
SETTING OFF TO A NEW ADVENTURE
We set off at around 3am on 5th November for a 6am flight. I was quite nervous for the flights as we had to take two and I had never flown without my parents, but it ended up being absolutely fine. The 3 hours between flights in Paris is when it all hit me. I was going to be staying away from home, with a different family in a different country and I started to get quite nervous. However, all of these nerves were put at ease when I met my family. Although I really struggled to understand them, I could tell they were lovely people. By the end of that day, I was exhausted after being up for 21 hours and I was feeling quite overwhelmed, which I knew was completely normal. I kept reminding myself that it was only going to get easier, and it did.
SCHOOL & HOST FAMILY LIFE
I started school the following Monday, this was a very nerve wrecking experience but all of the students were very kind and welcoming. Something I noticed straight away was that the school days are much longer in France. Some days, I start at 8.30 and don't finish until 6pm! Also the classes are much longer, some can be 2 hours!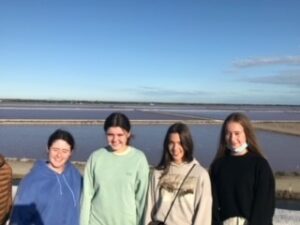 My host family are really nice, and we do lots of different things together. We play board games a lot, watch movies, and go sightseeing on the weekends. I think it's really important to get stuck in with the family and act as a member of the family rather than just a visitor. That's what helped me feel more comfortable.
DIFFERENT OUTINGS
During one of the outings, I really enjoyed when we went into the city. We drove to Montpellier, it took about 20 minutes, we explored the city. We went shopping in a big shopping centre called the Polygon. Some of the shops were the same as Ireland but it was really interesting to see the different popular French shops. Afterwards, we went to an art museum called 'Musée Fabre.' There were rooms and rooms filled with amazing paintings and sculptures. This is something I'm really interested in so it was great to see all of the art. After the museum, we went to get crêpes and they were delicious!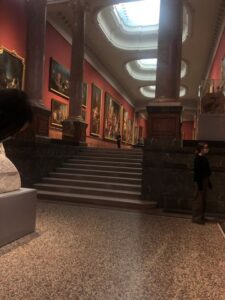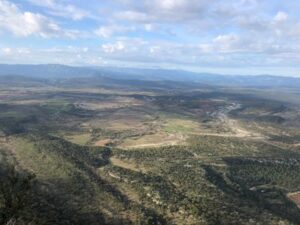 At first it was very difficult to understand the language. It still is tricky, but I find it getting slightly easier each day. It's easier said than done but I think it's really important to put yourself out there and make an effort to talk to the other students. This is still something that I struggle with, but even 1 or 2 short conversations can make you feel more comfortable.
I've already learned a lot, not just about the French language, but also the culture and daily life. I've got two more weeks and I'm sure these will be just as exciting and interesting!