BEAUTIFUL SEVILLE
Arriving in Seville, I did not know what to expect. My Dad flew with me, and we stayed in a hotel close to the centre. Seville is a breathtakingly beautiful city with so much culture compared to the usual Spanish beach holidays I have experienced before. The first thing that gets you is the heat. It was about 36C when we landed and even though it was September, temperatures stayed in the 30s right up till the middle of October. After about a week you get very accustomed to it and now, I feel cold when it is 20C.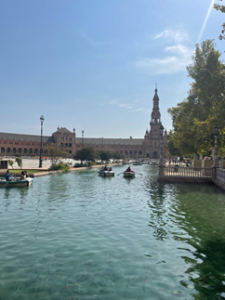 After arriving on the Thursday, I was dropped to my host family on Saturday. This is what I was most nervous about but once I met my host parents and their two daughters, slightly older than me, I was immediately put at ease. It was strange when my dad left but luckily and because of the warmth and generosity of my host family I was made very welcome.
MY HOST FAMILY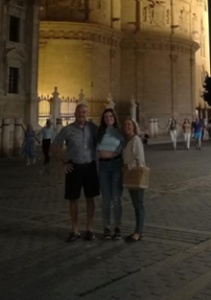 I was not starting school until the Thursday, so I got to relax into Spanish living by going to the public pool across the road with my host sisters, which was nice. Starting school was also made easier as my host family all attended school there. My host mother came with me and went through my induction. My classmates were all very friendly and I quickly made a few pals. The school curriculum is much different than Irish schools and it was more intense. I was pretty much lost for two or three weeks in class.
Apart from improving Spanish, another reason to go to Seville, was to improve my Water Polo skills. The team I joined is a senior team, and it has been a struggle. We train three hours per night, five nights per week and then matches at the weekend. The great thing about playing matches is that I get to travel all round Andalusia and even Africa. The teammates have been very patient, and I really look forward to going to polo every evening. Playing Polo has made me more independent and responsible, as I have to manage my own time and travel to the Pool which takes 45 mins to an hour on Public Transport.
WATERPOLO TEAM PHOTO IN CEUTA, NORTH AFRICA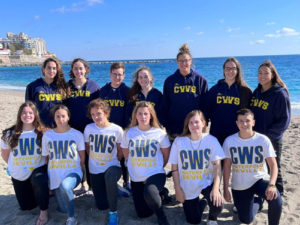 Although I am not fluent, I have another 5 weeks to get working on it. The immersion into Spanish life and culture is probably just as important as speaking the language and I have loved what I have experienced so far. This would not have been possible without my host family welcoming me to their "casa" with open arm.
MY SEVILLE SISTERS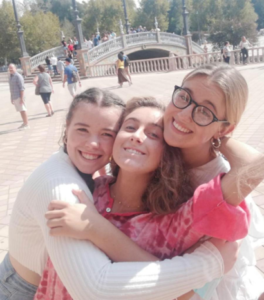 I will never forget my Seville experience and know I have made friends for life.