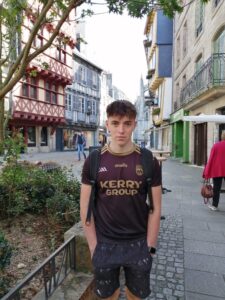 My name is Eoghan Brogan, I'm a TY student in St.Colman's College, Claremorris. I'm in France for 3 months to improve my French. The idea of studying abroad first came to me last year during the height of the Covid restrictions when travel wasn't permitted. Some foreign exchange students came to my school, so I did some research on studying abroad and I found TRIBE.
ARRIVAL IN FRANCE
I arrived in France in early October and took the train from Paris to Quimper where I met my host family. They were very welcoming and made me feel at home right away.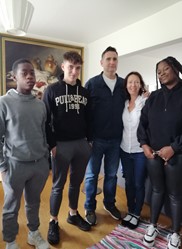 The first week was very tiring. I had to get used to a new school and routine. School starts and finishes at a different time every day. It's usually an early start, so I have to get up at 6am and catch the bus by 7am.
At first it was difficult to find the words in French that I wanted to say, even if I understood what people were saying to me, but with time it became easier and now I feel like I can converse well in French.
FRENCH SCHOOL
I'm attending a mixed school which is different to what I'm used to in Ireland, but everyone in my year has been very welcoming and I've made many good friends.
Another difference here to life in Ireland is the mealtimes, the French don't eat a very big breakfast but have a big lunch around midday. After that they don't eat much more until evening time, around 7pm when they'll have dinner with only a few snacks in between (called goûter).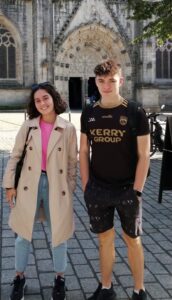 FRENCH RUGBY & GAA CLUB
Sport is very popular, and I joined the local rugby club. I've made many friends through rugby as well. One of the lads on the team has relatives in Ireland and he visits every year, so we became good friends. He invited me over to his house after training one evening for crêpes (how French). I met his family who were really nice, and we spent the evening playing FIFA and eating crêpes.
I was very surprised to find a GAA club in Quimper. It's a small club and has only a senior team, but it's great to be able to practice and avoid getting rusty while I'm over here. We've only had one match so far but there are more scheduled in the coming weeks.
TRIP TO PARIS DURING THE SCHOOL HOLIDAYS
French students get two weeks of mid-term break and during the holidays I went to Paris with my host family for a day. We got the train there and visited the Louvre and walked around the city.
I was also invited to a few parties during the midterm which was a good opportunity to meet people outside of school and have fun.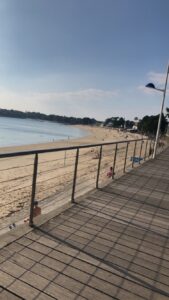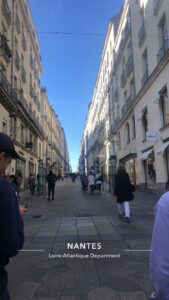 I've been here for over a month already and the time is flying by. I would highly recommend studying abroad with TRIBE to any students in transition year.