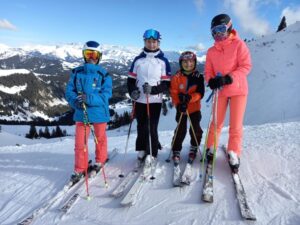 I had just turned seventeen and was setting off for eight weeks to The French Alps near Chamonix. I had butterflies leaving home but was also so excited to meet my host family.
When I landed in Geneva, Severine, Stephan, Enzo and Eve were waiting for me – I felt completely at ease when I met them. On our way home, we could see Mont Blanc in the distance, it was then when I realised how fortunate I was to have the opportunity to live in the snowy mountains! We had a lovely lunch with lots of laughs and was given a tour of my new house and bedroom where I could see some of the local ski slopes!
The following day, I started school with my host sister Eve. I was introduced to one of the English teachers by Severine who is also an English teacher in the school, and met some lovely girls who showed me around for the next few days. We played board games in the cafeteria and had my first Maths and Science class in French!
Snowshoeing with Eve (my host sister) in the mountains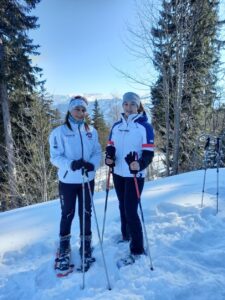 We hired my skis and hit the slopes of Romme – the small village we live in.
My second and third weeks here were school holidays so we met up with Enzo and Eve's cousins & grandparents, and had many more amazing days skiing in bigger resorts.
Fun adventures skiing in Les Contamines-Mont-Joie, Courchevel & visiting Annecy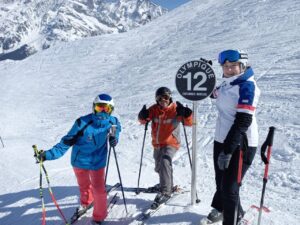 We started the holidays early on the Saturday morning, driving two hours to a French Ski Jumping Championship in Courchevel. My host dad was one of the judges so I was able to join him in the box and watch the competitors jump from there. Watching the competition was interesting – I have learnt a lot about ski jumping. My host brother Enzo is on the Junior French Ski Jumping Team, so we would watch him at his different competitions throughout Europe on the laptop together – as well as the Six Nations Rugby!
During the holidays and over the weekends, we ski most days, sometimes we drive to bigger resorts such as Les Praz-de-Lys and Les Contamines-Monts-joie. The last weekend of the holidays saw us take a family day trip to Annecy where we walked around the town enjoying the stunning views of the lake and mountains.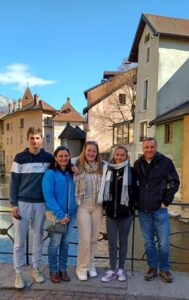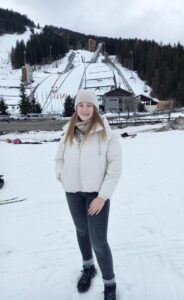 My host family are so kind, helpful and caring – we are always laughing about something which makes it easier for me to learn. They have made a lot of effort to let me experience typical day to day life in France and enjoy some of the local traditions and foods such as cheese fondue, raclette and saucisson.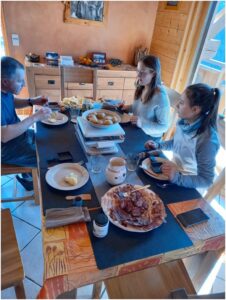 I decided to come to France to improve my language skills and experience living in a different culture and in doing this, I have gained more confidence and independence.
Some things I have found that have definitely helped over the past few weeks is trying to speak in French as much as possible. People do not mind if you make a mistake and over time it gets easier! I have met new people and had great fun. Finally, introduce yourself and speak to different students in school because they usually want to speak to you too and it is a perfect opportunity to improve your oral skills.
I would highly recommend Tribe Study to students thinking about studying abroad as I have had an amazing time with a lovely, sporty family and I still have three weeks left!